Welcome!
Welcome to our website and if you are in the vicinity, welcome to our garden! The Walter F. Lewis Community Garden is located in the town of Chelmsford, MA. It is a growing and thriving organic gardening and outdoor space for all. Regular plots and half-plots are available for rent each growing season. In addition there are twelve smaller raised-bed plots for which seniors and those with a disability are given priority.
Please explore our site and contact us with any questions. We look forward to meeting you!

Noticeboard
(Click on the titles below if you can't see the notices)
Season Opening Meeting and Sign Up for 2017
The Community Gardens OPENING MEETING will be on Sunday January 15 2017 at 3pm at Central Congregational Church in Chelmsford. This meeting will be for important updates about the coming year. Please contact Deb Jones if you cannot attend.
If you have not signed up for your plot for the 2017 season, this will be your last opportunity. Plots will be reassigned after this meeting.
Regulations Reminder
As the new season starts, please remind yourself of the Rules and Regulations. These are updated as necessary. In particular, your plot should show evidence of maintenance and planting by June 10.
Plot designations
The Chelmsford Community Gardens are made up of four areas. The first 3 areas are located at Sunny Meadow Farm on Robin Hill Road. For ease of identification the original community garden area that opened in 2009 is identified as "Garden A". The St. Onge Accessible Garden was dedicated in 2010 and is identified as "Garden C". "Garden B" opened in 2011 and is the fenced area between gardens A and C (and nearest the parking lot). "Garden D" opened in 2012 and is located at Wotton St. in North Chelmsford.
Click here for registration information and other ways to get involved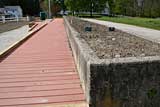 "Garden C"
Simple Measures...
Please remember to turn off the faucet!

The faucet on the tank, not just the switch on the hose, needs to be turned off when you have finished watering. Leaving it open causes stress to the fittings and has drained the tank and damaged the pump in the past.

At Sunny Meadow, please also remember to turn off faucets that run along the black lines attached to the fences. Otherwise when the pumps come back on, they will cause a flood.

Please close the gate!

Fenced in areas are fitted with chicken wire to discourage most wildlife. But if you leave the gate open, this deterrant is useless. Please make it a habit to always latch the gate after passing through.
Weeds to the compost!
Please remember to take your weeds to the designated area. At Sunny Meadow this is the green pile immediately to the right when facing the storage shed. Weeds should not be left in the paths or other communal areas of the garden, or added to the finished (black) compost pile..
Recent updates to website
2/10/12 Rules and Regulations updated for 2012 season
4/07/12 Added notices for rototilling and info about new entrance.
4/21/12 Garden D info
7/19/12 notices update
1/09/13 update notices, Rules & Regulations, Garden D info and photos.
5/21/13 notices and regulations updates
1/05/14 notices, links
1/18/15, 1/22/16, 1/7/2017 noticeboard update