More Information
History
Sunny Meadow Farm was originally owned and farmed by Walter F. Lewis. After his death, the land on Robin Hill Rd was used for a horse farm, greenhouses and fields rented by Jones Farm.
In 2008, the Town of Chelmsford purchased the land from the family of Walter Lewis. Jones Farm, along with The Chelmsford Open Space Stewardship Program has been working closely with the Town to keep this land as open space and to develop it as a community resource.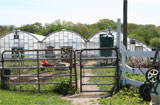 In the spring of 2009, the first section of garden, occupying the former fenced-in horse paddock, was opened. This gated area contains 41 plots averaging 15' x 30'.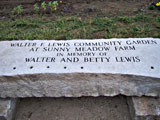 The Community Garden was dedicated to Walter and Betty Lewis in the summer of 2009.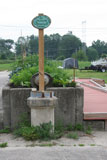 In the spring of 2010, a concrete trough on the site that was used by cows when it was a dairy farm and horses when it was a stable, was converted into twelve 8' x 5' plots accessed on one side by a ramp for wheelchairs. These plots are free for those with a disability or seniors, who have priority. Others can rent a plot later in the season if any are left.
This area is known as The St. Onge Accessible Garden after being dedicated to Richard St. Onge, a Westford firefighter who died while battling a barn fire at Sunny Meadow Farm on Dec 5, 1970. The dedication ceremony was held on Saturday, June 19th 2010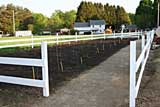 Also in 2010 a tree farm was created at the site with the help of Scout volunteers for use by the DPW in its street beautification projects.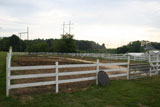 In 2011 due to popular demand, a new gated garden containing 29 plots was created at the site. These plots are sized roughly 13' x 34'. This enclosed area also has an arbor and miniature house which is used for storage.
In addition, a tarmac parking area and entrance was created.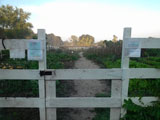 In 2012, a new garden area was opened in North Chelmsford on Wotton St, near the Merrimack river. This garden is divided into 35 plots, each very roughly 500 sq. ft in area.
Other updates at Sunny Meadow included the addition of a gravel road from the parking area to the commercial greenhouses on the property, which connects all the gardens. In 2013, a new storage shed and notice board was constructed and a greenhouse construction project was started.
Directions
The Community Garden located at Sunny Meadow Farm is near 158 Robin Hill Rd, Chelmsford, MA 01824 in South Chelmsford.
From Chelmsford Center, take Rt 27 south toward Acton. Just before Kate's Corner, take a right onto Robin Hill Rd. The Farm is located about 1 mile up on the right after the driveway at #174. The parking lot is shared between the community garden and the bike trail. Click for a Google map.